overview
ecommerce aces is a digital agency focused on it. Web development, ux design and ecommerce strategy
Ecommerce Aces is a New York City born and based small, but nimble digital consulting team that Focuses on ecommerce & digital solutions for both large and small clients. Our team is comprised of experts in Ecommerce who specialize in Salesforce Commerce Cloud and love to utilize IT, Web Development, UX Design, Strategy and Analytics to effectively create impactful user experiences and web applications that drive ecommerce revenue and growth for our customer. Because we strongly believe in a quality over quantity, we partner with only a handful of select clients at a time and strive to create a seamless partnership with each one of them to achieve successful results.
What separates us from the big guys is that when we take on client, we like to think of ourselves as an extension of your team. Because we believe in creating a true partnership with your company, our team is a dedicated and equally invested in helping your company succeed. At the end of the day, we know that if our customers are pleased with our results of our work, it will lead to more good work and that's what makes our customer and us happy.
recent projects
salesforce commerce cloud engineering
BurtsBeesBaby.com Home Page Redesign
Our engineering team technically led, developed, implemented and launched Burt's Bees Baby's re-vamped and optimized ecommerce homepage. We partnered closely with Burt's Bees Baby's internal e-commerce team to meet the brand's desired technical and aesthetic specifications. We additionally introduced their team to a new process in Business Manager to optimally maintain site refreshes using Campaigns, Slots and Assets going forward. Some features of this new home page include: 100% width header and footer, wider layout that accommodates bigger screen monitors, organic SEO content, and much more.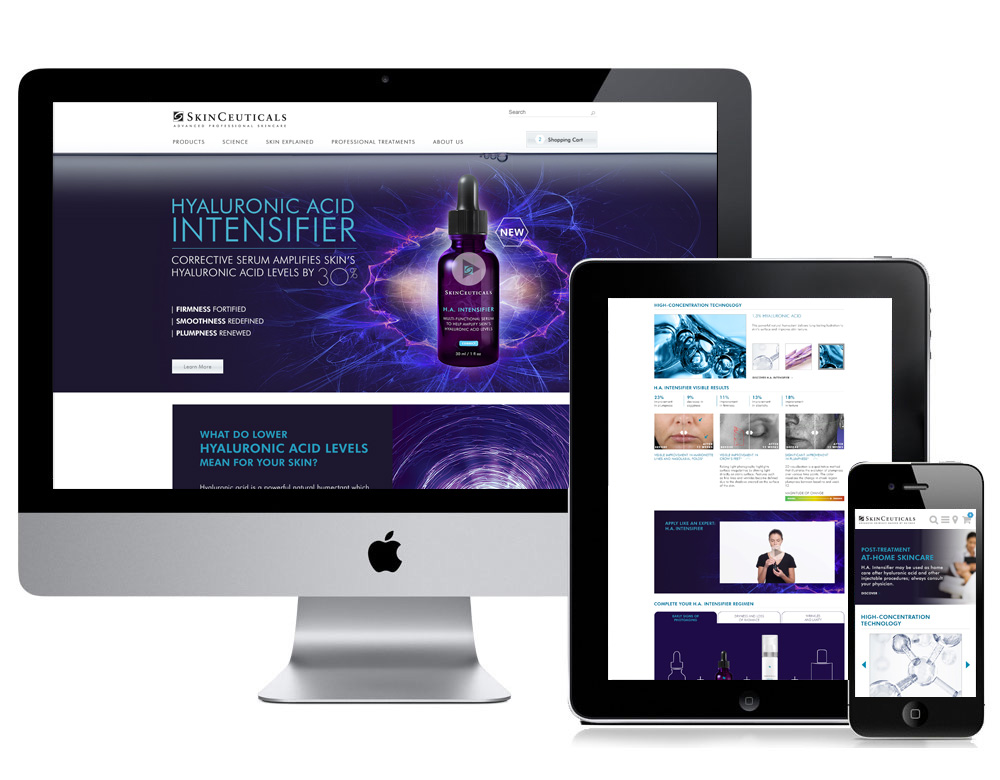 SkinCeuticals.com H.A Product Launch
Our team was hired to technically lead, develop, implement and launch an all new, highly customized website experience for SkinCeuticals.com's Hyaluronic Acidy Intensifier product launch. This project involved upgrading the desktop layout and mobile home page in addition to developing a custom product landing page. Some of the features included in this project were: implementing a new top navigation experience with a luxury drop down effect, upgrading accordion mobile navigation, adding navigation 'best sellers' slider, 100% width hero slider, fade in effect on 'below the fold' div's, responsive video player and much more.
Laroche-posay.us Email Slide Up Capture
Our team technically led, developed and implemented a new email slide up module on laroche-posay.us. The functionality included on click events that hide / show titles and up / down arrows to enhance UI and meet brand's requirements. One main challenge that arose was with mobile bottom fixed position mainly due to most mobile devices having an onscreen keyboard slide up. The solution was to reverse bottom fixed positioning to be top fixed with % amount value for more enhanced UI.
why us?
data & detail oriented
Results Driven
We believe in data driven results that can easily be measured. We love analyzing data to achieve the things that matter most to our customers (e.g., increased conversion rates, grow email lists, acquire new customers and overall year over year growth)
Growing & Keeping Your Customer Base
We know the importance of increasing your market share by acquiring new customers via multiple channels and mediums and understand the value of retaining a good, loyal customer once you've found them.
Giving Your Ideas Flight
You are the brand expert. You have great ideas, knowledge and insights of the brand, but need the support of a great, dedicated digital team in order to make them come to life. That's where we come in and partner with you to make your ideas reality.
Details That Make You Shine
When you work with us we make sure to make your website or digital programs stand out from the rest while still maintaining first in class industry best practices. We are firm believers that every little detail counts and it shows in our work.
Hosting & Domain
We provide Solid State Hosting services in a cPanel environment. We also provide Domain Registrar services allowing you to manage all your digital needs in one place. This is what sets us apart from other Hosting and Domain companies.
implementation
Our implementation services include full on ecommerce front-end and back-end integrations. We go above and beyond by ensuring all business requirements and technical specifications are documented in Confluence and provided to you at project completion.
Support
Our expertise extend beyond Implementations and go into the support services space as well. This is where we work with you directly to create an integrated web development environment in a "sprint / release" methodology process geared for revenue growth.
360 Solution
Our capabilities to provide Hosting & Domain services, UX Design, web development, systems integration, implementations, SEO, e-marketing, documentation, training and support makes us an ideal partner to work with.